Euston Station
Background
Following on from the publicity of the May 2019 Stamford Show disaster the MDMRC was kindly offered a diorama of Victorian Euston Station by Robert Smith and friends, which is based on a print from the Illustrated London News.
This 10 foot by 6 foot baseboard contained the key private and public buildings from the Euston Square park lodges, up Euston Grove, through the Doric Arch and into the mainline station courtyard.
Built with traditional methods of wood framed hardboard carcase, cereal box layering and drinking straws for chimney pots it has provided the jumping off point for super detailing using 3d printing techniques for doors, windows, rooftops and to introduce the parks in detail using donated scenic materials, in order to bring it up to exhibition standards.
Our chosen timeline is July 1875, when the Sultan of Zanzibar came by train from Liverpool to London on the LNWR on a state visit (vetoed by Queen Victoria on family grounds) and personally ratify an anti Slavery Treaty with Benjamin Disraeli.
Phase One of the station will first be displayed at our 2020 Exhibition, Phase 2 will involve the Great Hall and railside Arrival and Departure platforms to fiddle yard for operation.
Work in progress photographs
Euston Arch to Station Courtyard
Southampton Street Villas, Edwards Family Hotel
Before detailing
After Detailing
Update: 8th November 2019
Euston Square East and West gardens are now nearing completion with 3d printed foot tunnel entrances and iron railings in place with use of donated scenery to soft sculpt the gardens themselves. Statues of Stevenson and Aphrodite printed and in place.
Update 12 Dec 2019
The central courtyard of the main station now has the shelter canopies constructed and in place. The task now is to make many Hansom Cabs to populate it along with the Coldstream Guards arriving for the Sultans reception.

The East and West Euston Square Gardens are now completed as is the East Villa which took approx 60 hours to detail. The Statue of George Stevenson is in place on plinth at the gateway by the lodges.
The Euston diarama will be shown to the public for the first time at our 2020 Stamford Show

Update 25 Jan 2020
A 'landmark' day, the first full assembly dry run of the work so far. Whilst some buildings lack 4 sides of detail, 12 horse drawn vehicles get swallowed up and lots more people neeeded, the overall feeling is that the primary long vista view objective is completed.
Main vista up Euston Grove, in reality I would be standing on the newly infilled cut and cover railway line under the Euston Road.
The original Somers Town Euston Grove 1876 print from Illustrated London News as hosted by british-history.ac.uk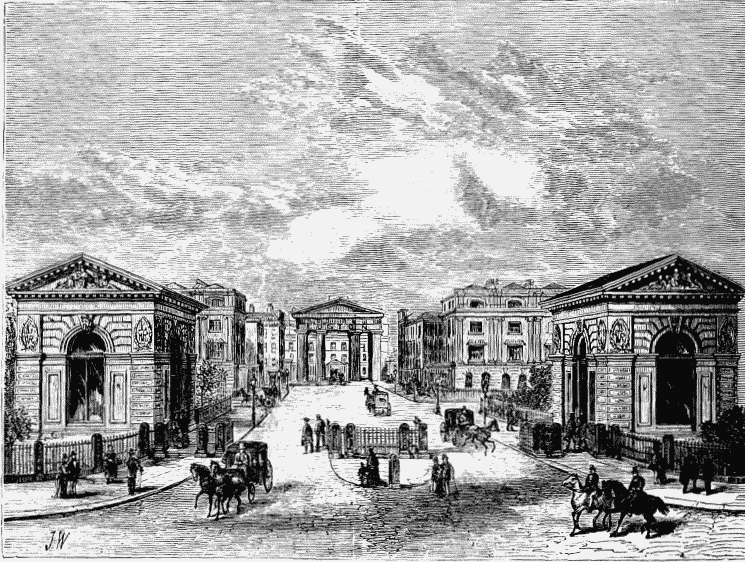 Parkland now nicely links into the rest of the setup and provides needed June colours.
And our Goodies tribute to Kitten Kong.
Exhibition Information for Show Managers
Scale:
'OO'. 4mm
Location
Euston Grove Somers Town
Era:
Mid Victorian
Dimensions:
Baseboard size 10ft x 6ft
Viewing 3 sides ideal
Total Space required
Valuation for Insurance Purposes:
£ NB: Please check before booking
Power:
1 x 13 Amp Mains socket
Transport:
Number of Cars 1
Number of Operators

Please note not yet operational

Other Requirements:
Plenty of tea
Information last updated
24 Jan 2020